Thank you very much for your abstract submission to AOGIN 2017.
Please check your time/date/session of your presentation below.
AOGIN2017_Session.pdf (38.2 KB)
Presentation time: 10 minutes (8-minute talk & 2-minute discussion)
Official Language: English
Accepted application format: Windows Power Point 2007/2010/2013/2016.
Recommended typefaces: Century, Century Gothic, Arial, and Times New Roman. Please avoid special characters.
Please include the presentation number and presenter's name in the file name.
If you create your presentation using a Macintosh and/or moving images, please bring your own computer.
If you use your own computer, please bring your power adaptor.
Presenter Tool displaying your manuscript on PC monitor at the podium is not available.
PC Preview Desk: Foyer, 5F


Opening Hours:
9:00 – 18:00, October 18 (Wed)
8:00 – 18:00, October 19 (Thus)
*All the speakers are requested to bring their presentation data on USB Flash Drive, CD-R or their own computer to the PC Preview Desk and to upload their presentation data at least 30-min before their session.


All the oral presentations are guided by moderators.
Speakers are requested to strictly keep the allotted time.
All posters shall be prepared entirely in English.
All posters shall be set up during the following time:
09:00-10:00 , Wed, 18 October 2017 (Day 1)
All posters shall be displayed throughout the period of the meeting.
All posters shall be removed during the following time:
17:00-18:00, Thurs, 19 October 2017(Day 2)
All posters not removed as of 18:00, Thurs, 19 October shall be DISCARDED.
Each author is requested to indicate "title," "authors' name" and "authors' affiliation" on the top right of the poster board within an area of 70cm wide x 20cm high.
A presentation number board to be put on the top left of each poster shall be prepared and attached by the Organizing Secretariat.
Poster contents should be arranged to describe the "objective," "methods," "results" and "conclusion."
Usable area of the contents 90cm wide x 210cm high in size. Layout of poster contents shall be decided at authors' discretion.
The typeface used on posters shall be at least 18mm high so that the content can be read from a distance.
Tables and figures shall likewise be of an appropriate scale, with text large enough to be easily read.
Posters shall be attached to poster boards using thumbtacks which will be provided by the Organizing Secretariat.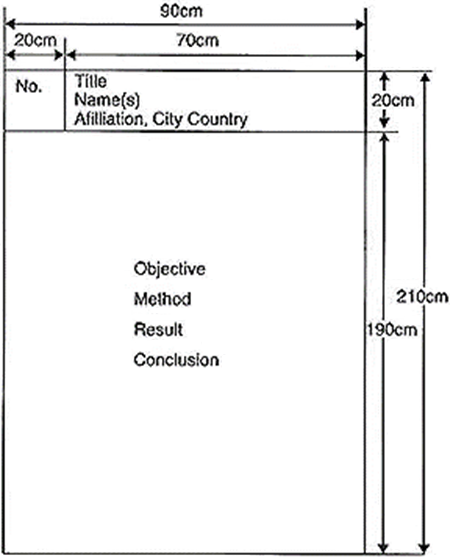 All speakers/presenters are asked to disclose any conflict of interest at the time of presentation/on posters for the benefit of conference delegates. To this effect, a slide at the end or beginning of your presentation should contain a summary of conflict(s) of interest.
You may use the template below to disclose conflict(s) of interest if you prefer.
Template (174KB/PPT)
Abstracts should be prepared in accordance with the instructions below and submitted through the online system. Abstracts should comply with the editing instructions.
Original scientific material is welcome and preference is given to recent findings not yet published at the date of the Congress.
Abstracts will be peer reviewed and evaluated by experts in one of the categories (topics) listed; they will be allocated for oral or poster presentation. Authors who do not wish to be considered for oral presentation are requested to indicate this when submitting. However, please note, that the Scientific Committee will make the final decision for the mode of presentation.
Main author / presenter is requested to register for the congress within 10 days after having received their notification of acceptance. Abstracts whose main author/presenter have not made attendance registration will be withdrawn. In case that main author and presenter of an abstract is not the same person, please inform the organizing secretariat of AOGIN 2017 before the meeting:
Main authors of all the submitted abstracts will receive a notice of acceptance/non-acceptance and final decision of the type of presentation/date by e-mail by July 30, 2017. Please make sure to have inserted the correct e-mail address of the main author.
Authors agree that their abstract will be published (printed) in the congress abstract book.
For further information and assistance please contact the organizing secretariat at AOGIN 2017: